Unless you're a minimalist camper traveling alone, you'll need to cram a fair amount of gear into your car. Here's how to pack a car for camping.
Car technology for teen drivers may help them drive more safely. New teen driver technology help to reduce driving distractions, issue alerts and more.
Safely storing important documents is a key step to getting yourself and your family ready to handle disasters. Here's what to consider from Plymouth Rock.
Winter getaway ideas to help you plan your next East Coast adventure whether you are in PA, MA or another state somewhere in between. % %
On those really hot and sticky days, using your air conditioning is a no-brainer. But, you may have asked yourself: "Does my AC really affect my gas mileage?"
The cold weather can affect your car just as easily as it can affect your mood. To keep your car running smoothly over the next few months, consider the following:
While the weather is still warm, biking may be the fastest way for you to get some exercise and fresh air, get groceries or just get from point A to point B.
To help drivers confront winter weather, Plymouth Rock Assurance has put together 10 safety tips for driving in snow and ice.
What's not to love about fall? However, unpredictable changes in weather, fallen leaves, and the end of daylight saving time can all lead to challenging driving conditions that last into winter.
While it's best to drive on dry roads, sometimes sunny skies can turn dark and open up with bursts of rain.
We want to take this time to remind all drivers how important it is to share and stay focused on the road whether you are on two wheels or four. Here are some quick tips for all drivers.
Gas prices are on their way up, again. To help you navigate the road of life, we've put together some of our favorite ways to save gas while travelling.
Driving in the winter or trying to beat a snowstorm home when your car starts sliding and you lose control. Panic sets in. Before that happens, here's what to do.
The kitchen can be one of the more expensive spaces to stock, but the good news is that you can start out with a few essentials and pick up anything else you need as you go!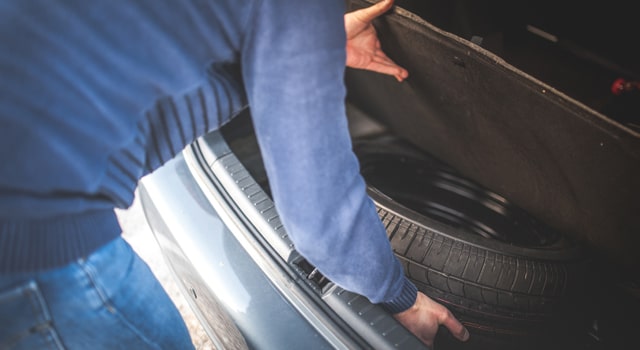 If you're shopping for a new car, something you probably aren't thinking about is what you'll do in the event you run a flat.
As the summer heats up, we can't think of a better way to celebrate than by firing up the grill. We've rounded up our best how-tos, safety tips and recipes for you to have a safe and delicious summer.
With many people staying closer to home this year, fire pits have become a hot commodity. Here are some tips to safely enjoy an outdoor fire.
Since no one wants to spend holiday time on the phone with their homeowners insurance company, here are eight ways to protect your home during the holidays.
With holiday vacations and winter getaways right around the corner, you might need to be prepared for the process of renting a car.
You are driving down a street and suddenly you hear thump, thump and thump. As the vehicle slows you realize it's a flat tire.