PLYMOUTH ROCK'S NJ INSURANCE COMPANY CODE
PLYMOUTH ROCK'S NJ INSURANCE COMPANY CODE
If you're looking for Plymouth Rock's NJ insurance company code, you may already know that Plymouth Rock is not on the NJ Motor Vehicle Commission's list of codes.
That's because Plymouth Rock refers to a group of companies that do business in the Garden State. The insurance company that issued your policy has its own name (known in the insurance industry as the "underwriting company").
Plymouth Rock customers will have different insurance codes, which are typically based on how you purchased your policy. Many of the documents you've received from Plymouth Rock have the name of your underwriting company on them. Look for language that says something like "policy issued by," "underwritten by" or something similar.
If you're looking at your insurance card (the paper people usually keep in their glove box), you can look for the code here: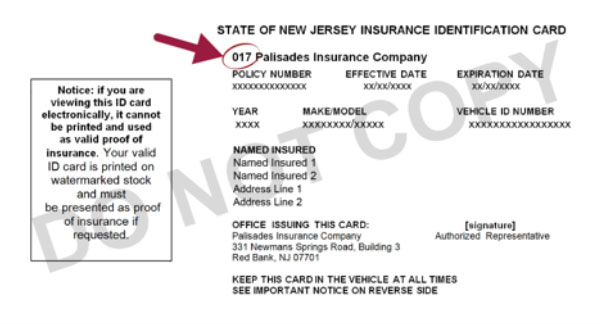 Don't have your insurance card? If you're a New Jersey customer and need to request a new insurance ID card, contact us and we'll drop it in the mail.
Here are the MVC insurance company codes for Plymouth Rock in NJ:
017 - Palisades Insurance Company.
963 - Palisades Safety and Insurance Association.
632 - Teachers Auto Insurance Company of New Jersey.
411 - High Point Property and Casualty Insurance Company.
413 - High Point Safety and Insurance Company.
You will typically need your insurance company code when you register your car (for the first time or renewing) with the New Jersey MVC. In addition to the name and code of your insurance company, you'll generally need other pieces of information, including your social security number, your car's current odometer reading and your NJ driver's license number. Before you spend all that time waiting in line, you should double check with the NJ MVC to see if you may be required to provide other information.
Still need help with your company code? Click the contact us link below to give us a call. If you purchased your policy through an agent, they will certainly be able to help you with your code, too.